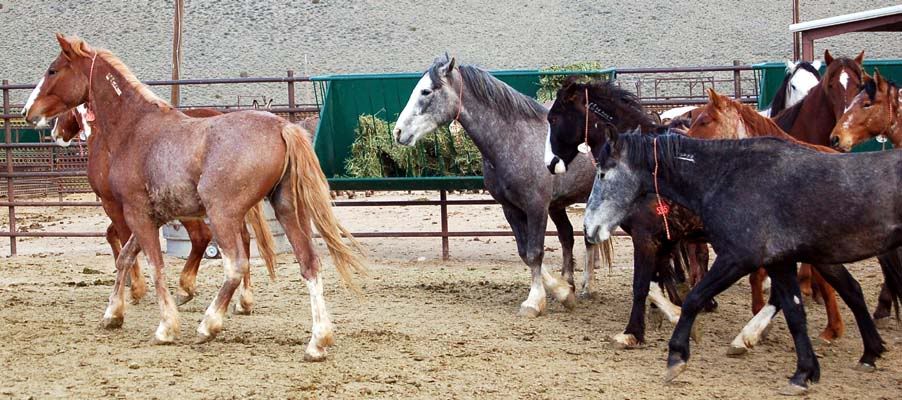 A couple of years ago we went to look at young mustangs at the palomino holding corrals. After a couple of hours looking at around 600 yearlings, we settled on adopting a nice palomino filly from Buck and Bald HMA. While waiting for her brand inspection, all the young horses were placed in quarantine for a couple of months and we waited patiently for the call to go pick her up. I was excited when the call came but that quickly turned to disappointment when they told me she had sustained a catastrophic injury and had to be euthanized. So I was given a credit towards a replacement mustang and we headed out to see what was available.
We passed through on a holiday when the facility was closed, I spotted one unique looking mustang filly that was very recently gathered and noted her tag number. Then the next day I called up the office to inquire about that particular filly. They said she was not finished being processed yet but to call weekly to check up on her.
So I did call a few times and eventually they told me that because she was colorful they were going to hold onto her for a special adoption event in hopes of making more money. If I wanted her I would have to come in March to that special adoption. Pretty soon pictures of the adoptables were posted on the blm website. The paint filly was there and this one was listed as well:
BLM photo



We headed to the special adoption to see the available mustangs in person, qualified to adopt a youngster. The LRTC wild horse mentors were there working with some mustangs, a nice group of people.


yearlings at the adoption

There were more nice mustangs available than there were adopters but it was a fairly successful event. Some CA folks got into a bidding war with some FL folks over the uniquely marked paint filly and she went for over $1000 so the BLM's plan for that one was a success. I was happy to see this little grulla sabino filly seemed to be sound and healthy. After a brief bidding scuffle she was ours to take home.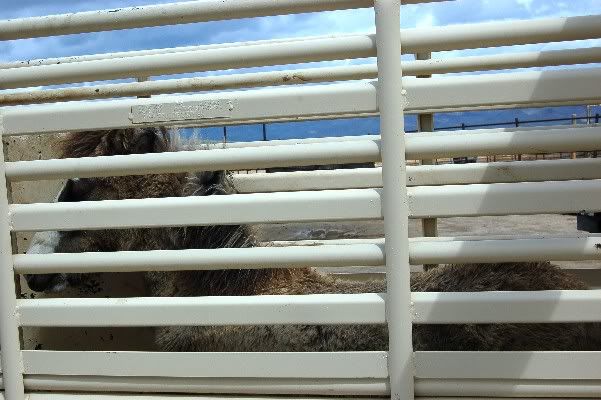 BLM wranglers putting a halter on the filly in the chute prior to loading. She stepped right up in the trailer like a champ.
Before we got home the filly had managed to slip her lead rope in the trailer. I don't think I would have the blm halter an adopted mustang in the future, but if a person wanted to go that method it would probably be good to tie the lead rope onto the halter.
Little ragamuffin after arriving home. Farfalla was gathered from Lava Beds HMA, near the town of Gerlach, Nevada.
It didn't take long for Farfalla to make friends and feel pretty comfortable in her new domestic surroundings.
Farfalla has always been pretty bold about new things and new places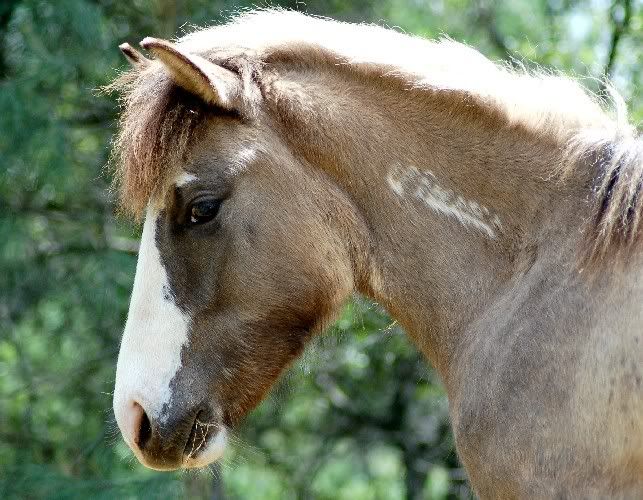 She adjusted well to long hauls and different environments
Farfalla is also called "Toodles" and she is full of mischief. She has been known to sneak through the fence when she wants to come into the yard for extra attention.
She didn't grow to be very tall but now that she is mature she is ready to be started under saddle